Writers are invincible warriors. Because, you know, words never die. Their arsenal comes with many tools of the trait for that 'Bravado' word factor. Grammarly is one such tool bathed in the glory of fame amongst writers across the globe. This post, thus, is dedicated to the comprehensive review of Grammarly, which is nothing short of an angel that delivers us from the sin of silly grammatical mistakes. 
PS: This post was edited with Grammarly...ssshhhhh! I recommend that you sign up for a free Grammarly account so that you get a better understanding of the software when are reading review. 
Sign up for a Free Grammarly Account here.
Let us get started.
What is Grammarly anyway?
For those new to this magnificent online tool, Grammarly is an AI-powered online Proofreading tool. It helps writers fix spelling errors, basic to advanced grammatical errors, active/passive voice along with helpful suggestions that might enhance the writing for good. Let us see what makes this awesome software….awesome!
First Impressions
Grammarly is a freemium tool, i.e. you can enjoy the basic features for free and have to pay for more advanced features. As for the first impression, using Grammarly is pretty simple, even for the non-tech crowd. All you need to do is provide an email ID, set up the password and you're good to go.
Once you log-in, the dashboard panel welcomes you with a simple and intuitive User Interface. On the main screen (White area), you can create or upload a new document that needs proofreading. Here you can also access previously proofread documents as history. On the left side stands the main menu with neatly arranged options. 'My Grammarly' is set as the default open page followed by 'Profile,' 'Subscription,' 'Apps,' 'Log Out,' and 'Support' options. 
While all the options in the main menu are self-explanatory, the 'Apps' option allows you to install Grammarly for use in Microsoft Office and Google Chrome as an extension. With this, you don't have to worry about logging in to your Grammarly web all the time. The extension will automatically detect any flaw in your writing and prompt you to fix it. As of now, Grammarly is also testing its Beta extension to be used in Google docs.
Features that we love
I have been using Grammarly for over a year now. It would not be an understatement to say that it outruns any other proofreading tool keeping in mind its ease-of-use, functions, and powerful features. Some of Grammarly's noteworthy functions are;
AI Powered Proofreading
Grammarly catching grammatical errors is akin to Venus Flytrap catching insects in a blink. The tool is powered by Artificial Intelligence that keeps learning as the users continue to use it. It highlights any typo/spelling error, punctuation error, or omission worthy error in Red. Yellow highlights denote advanced grammatical errors related to sentence formation. It can be wrong diction, conjunction, complex sentence, tense, verb, adverb, noun, pronoun, active/passive voice, etc. Once you click the Yellow highlight, Grammarly will tell you the correct usage and suggestion that you can use. Payment alert! Advanced issues can only be fixed in the premium version. 
Plagiarism Checker
Watch out for those Violet highlights in your writing! Grammarly's inbuilt plagiarism checker will check your content against billions of web pages for plagiarism aka, originality. Any string of words found matching to an already published online source will be marked by Grammarly. It will tell you the exact phrase, percentage of the text, and the source with which the content matches. 
Writo-metrics
That is what we love to call the menu that appears at the right side of the page while editing a document. This little menu is power packed with loads of advanced features which include;
>Performance
This option displays an overall 'score' of your writing. The closer it is to hundred the better. To generate this score, Grammarly takes into account the comprehension, readability, uniqueness, vocabulary, and clarity of your writing. 
>Set Goals
This option helps Grammarly 'learn' and recognize your writing's context. You can set the goal for your current document and Grammarly will suggest the edits based on your goal. Currently, 'Intent' and 'Emotion' features are in the experimental phase.
>Spelling, Clarity & Vocabulary
These options indicate the number of spelling errors, number of clarity issues, and vocabulary issues against them.
On the bottom right corner, you'll see two options that say 'Plagiarism' and 'Human Proof Reader.' Clicking on the Plagiarism option will check your document for any plagiarism issue as pointed out earlier in this article. The Human Proof Reader option is another premium service by Grammarly. If you wish to skip the hassle of editing your document yourself or just want a professional pair of eyes to rectify your document, this option will come in handy. Just select the earliest time by which you want your document to be proofread and pay the indicated prices. You'll be all set. 
Nitpicking a little! 
While we love Grammarly for its versatility and seamless contribution to easing writers' life, we also love to nitpick a little. Following are the places where Grammarly could have impressed us through and through.
Pricing
Let us say Grammarly would have been a terrific deal had its monthly pricing been on a slightly lower side for the not so frequent users. Your monthly subscription will cost you $29.95/month. However, annual subscription offers an unbelievable discount bringing the monthly cost down to $11.66/month. But, the free version always stands by your side to rectify the basic mistakes.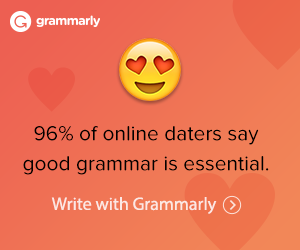 Bugs
All software in the world comes with a soul infested with bugs and errors until frequent updates keep rolling out. Grammarly has undergone a few changes regarding its word analyzing and error detection capabilities. But, to the annoyance of many writers and editors, Grammarly sometimes 'behaves' adamant and stubborn when pointing errors in the sentences where... well, where there might not real errors.
Also, if you add the Grammarly Beta Version as an extension, you will observe that it displays only a limited number of errors in the document. It catches only spelling mistakes and oversees other errors such as passive voice, punctuation errors, and unclear antecedent. What is even more confusing and distracting about Grammarly extension is its propensity of displaying errors while you are working on the document. It often leads you to lose track and focus from the task at hand. Therefore, I would advise you to use the Grammarly app through its website instead of using it as an extension.  
British vs American
I still do not think that the British and the Americans can get along in the long run, unless united by war or love for junk food. The same conflict is seen in Grammarly where any word from British English is shown as an error. For example, 'Analyse' will trigger a correction to 'Analyze.' 
Honestly, however, there is not much I can write to make this wonderful tool look bad. Grammarly comes highly recommended if you are a student or a professional. Create an account today to supercharge your writing. And remember to share this Grammarly review with your friends online! Happy writing 🙂